WHAT ARE YOU LOOKING FOR?
06 Nov 2023
-
10 Nov 2023
GS1 Mauritius participated in the GS1 Middle East, Mediterranean, and Africa (MEMA) Forum 2023 in Riyadh, Saudi Arabia!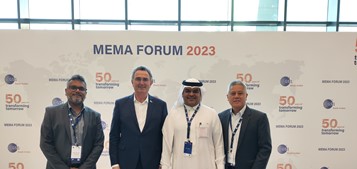 This event brings together some 25 GS1 Member Organisations from the MEMA region, serving as a dynamic platform where innovation converges with collaboration.
Discussions at the forum are centred around paramount issues such as regional projects, challenges, and solutions around supply chain management aimed at ensuring the highest levels of consumer and patient safety using GS1 standards.
At GS1 Mauritius, we are committed to leveraging GS1 standards through a common language for secure cross-boundary trade, bolstering consumer, capacity building, patient safety, and fostering a safer marketplace aligned with the latest trends and best practices of GS1.